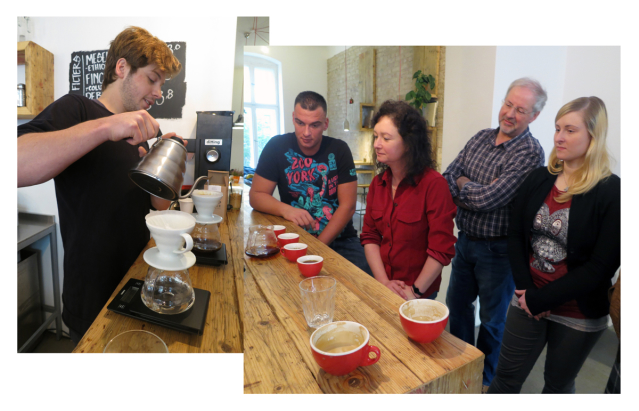 Last Wednesday, I was tour guide to six folks from the Ruppiner Feingebäck cafés in scenic north Brandenburg. It's the second research and tasting trip I've organized for them in Berlin. We criss-crossed the city to try my favorite neighborhood cafés, brainstorming new design and menu ideas for their own café along the way…
To start the day, Morgan Love graciously hosted us at his new café, Silo Coffee, the first third wave coffee shop in Friedrichshain. He explained key ideas in the third wave movement, such as nurturing direct relationships with coffee farmers, as well as roasting lightly to highlight the beans' subtler flavors. As we compared the fruit and berry notes in Morgan's espresso and filter coffees, and later learned the secrets of making creamy and sweet milk foam from Kim, we sharpened our senses for the rest of the tour.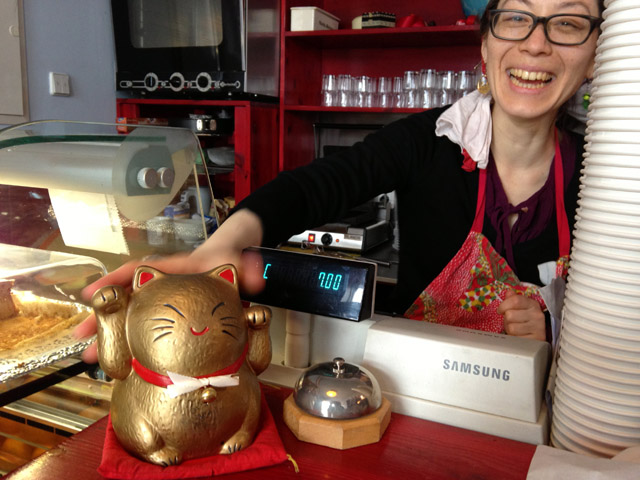 Next, we stopped by Yuki Espresso Bar in the nearby Rudolfkiez area. I've written about this cozy one-woman shop before, where the owner singlehandedly invents new cakes and cookies, makes wonderful tea sandwiches and effortlessly pours beautifully ornamented cappuccinos.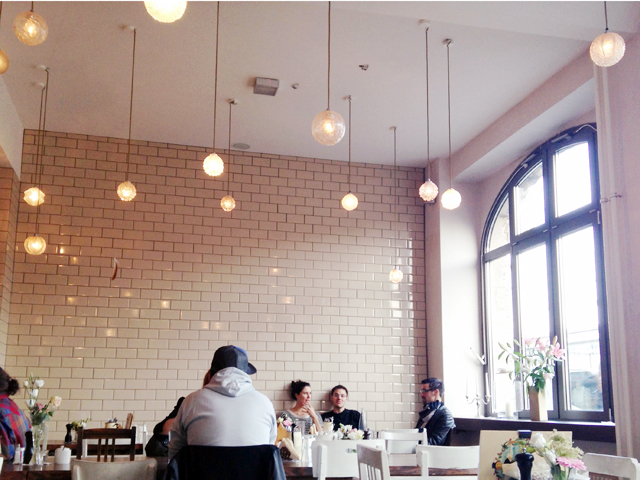 For lunch, we had planned to try the new, lighter and healthier, raw-food inspired menu that the Michelberger Hotel restaurant recently introduced. However, despite the many delicious-sounding healthy items on the menu (sweet potato latkes, avocado salad, horseradish-beet soup with caramelized apple…) we were sidetracked by the hotel's long-standing Wednesday special, Wiener Schnitzel. "Sieben mal Schnitzel, bitte!" Not exactly health food, but crisp with homemade breadcrumbs and absolutely delicious.
We then hopped onto the bright-yellow elevated U1 train towards old West Berlin. In Charlottenburg, we dropped by Kaffeerösterei Berlin to admire the dozens of coffee beans roasted in-house, watch chocolates being made in an open kitchen, and marvel at the dozens of different cakes available by the slice, from shining glazed tortes strewn with sugared violets to puffy clouds of cream.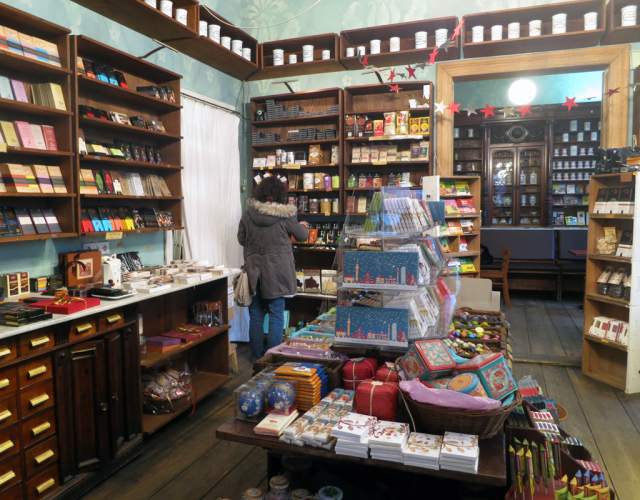 We pulled ourselves away just in time for our reservation at Winterfeldt Schokoladen in Schöneberg. In this vintage apothecary, most of the drawers and shelves are no longer filled with pills and powders, but chocolate bars and cocoa. We gathered around the café tables in the back, each ordering a different hot chocolate from the extensive menu, from a thick Spanish concoction to cocoa scented with cinnamon and caramel.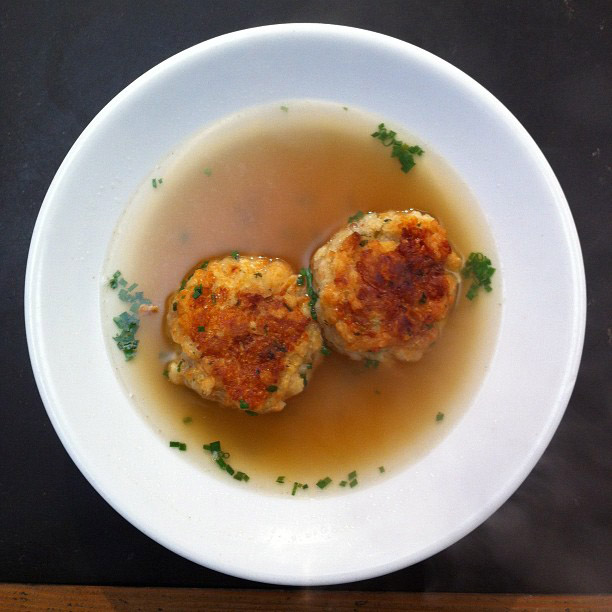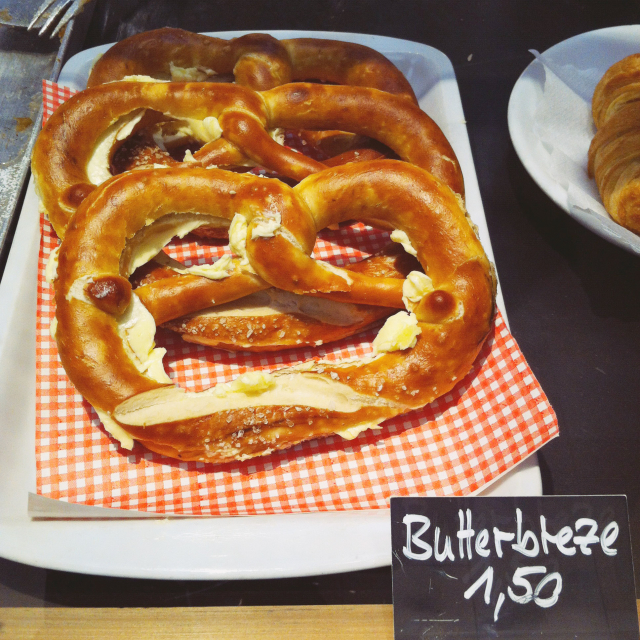 Then we took the underground back to the east, to Kollwitzplatz in Prenzlauer Berg. We poked our heads into my old favorite, the Meierei, a deli specializing in Alpine foods, such as bread-and-cheese dumplings in beef broth, buttered pretzels and apple strudel. Then we had an aperitif and some savory bites at Anna Blume, a Viennese-style café with its own rather amazing flower shop.
We ended our tour with a dinner of Tarte flambée or Flammkuchen at Gugelhof, an Alsatian restaurant that radiates old-school coziness with its well-worn wooden floors, heavy bistro silverware and tall Peugeot pepper grinders. The crust of our Flammkuchen, the Alsace's answer to pizza, was thin and crisp, spread simply with plain crème fraîche. I chose the classic topping of bacon and onions; others sampled the fresh salmon or seasonal vegetable pies. Thinking back over the day, we toasted to a trip full of new experiences and tastes.
Thank you to all the restaurants and shops who hosted us, sometimes announced, sometimes not. And thanks to the Ruppiner Feingebäck team for traveling to the city and entrusting me with the planning of your tasting tour. I'd love to do it again—there are plenty more places in Berlin to discover!
Readers, what are your suggestions, here or elsewhere?
—
All photos by Leslie Kuo. Some photos were made on this tour and some during earlier visits.
Thank you to Berlin Reified, Lilienfeld, and Beton + Garten  for your tips and assistance.