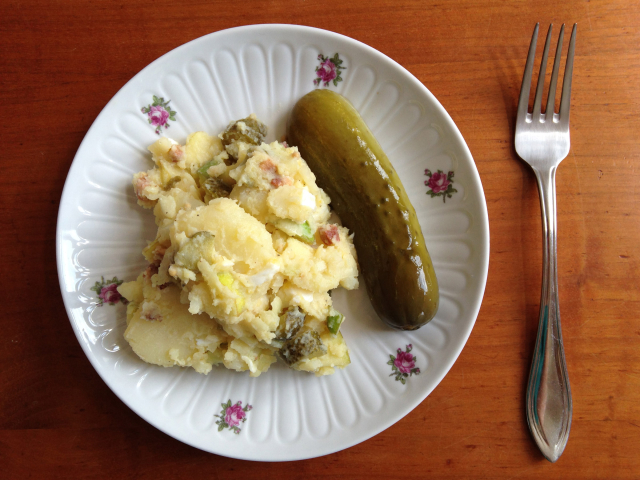 Potato salad is the perfect summer food: it's cool, it's fresh, it goes well with sausages and watching soccer. But what goes into the potato salad? That is the question. For me, part of integrating into German culture these past eight years has meant gradually shifting my taste in potato salad from American (favoring ingredients like peas, celery, fresh dill, mustard and mayonnaise) to German. 
On the occasion of the first German match of the World Cup tonight, I thought I'd share my favorite German potato salad recipe with you. Now, there is no one single True German Potato Salad or even a common German direction in potato salads. The salads vary by region and by family. Some purists won't use any vegetables other than potatoes (this sort of salad is a typical bed for Wiener Schnitzel), others add cucumbers, eggs or even meat. Some Germans swear by mayonnaise dressings, other by beef broth vinaigrettes; indeed, the matter of dressing is a most divisive one.
I like to think that the dressing in our family potato salad, which I am about to share with you, is one of a kind. It is a vinaigrette which you can make without needing to open a bottle of olive oil or vinegar. Rather, this vinaigrette is made entirely of hot bacon fat and pickle juice. Yes, it's true. It may sound crazy, but just wait until you try it. It's the kind of potato salad that makes you quicken your step on your way home from work when you remember that it's waiting for you in the fridge. This recipe comes from my grandmother-in-law Uschi, who grew up in East Germany. All three living generations of her family make their potato salad this way, and those who have married into the family, too. Guten Appetit!
Oma Uschi's Potato Salad
4 pounds potatoes — small-ish, thin-skinned, waxy (e.g. Yukon golds)
1 cup diced yellow onion
1 large jar dill pickles, chopped — reserve juice!
3 green apples, chopped
5 hard boiled eggs, sliced
1 cup diced white speck (or substitute fatty bacon)
Salt, sugar and pepper to taste

Scrub the potatoes well, place in a pot of cold, well-salted water. Bring to a boil, turn down heat and simmer gently until just tender.
Meanwhile, combine the diced onions, pickles, pickle juice and apples in a very large bowl.
When the potatoes are tender, drain, peel and slice them, tossing them into the salad as you go.
Then gently fry the diced speck over low heat until all the fat is rendered and the speck pieces are small, brown and crunchy (if you're using regular bacon, you may need to oil the pan lightly). Pour the rendered fat and speck bits onto the potato salad and toss.
Use salt, pepper, and sugar to correct the seasonings, mixing and tasting until you have a nice savory-sour-sweet balance.
Finally, mix most of the egg slices into the salad and arrange the rest attractively on top. If possible, chill for at least one hour before serving. 

The salad is even better the next day, and goes well with hot boiled sausages (Wiener, Bockwurst) and grilled foods. Enjoy!