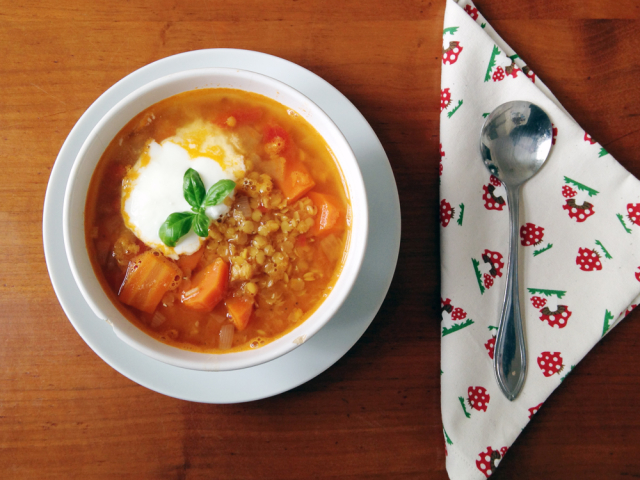 Blustery gray fall weather hit Berlin with a wet thud, quite punctually as soon as September started. Hot soup is now key to fueling my studio work. I've been meeting my friends to eat spicy Chinese noodle soups and swap recipes for our favorite hot, one-pot meals. I typed up several this week for Jane and Sylee, so I'll be posting them here as well, over the course of soup season.
It was thanks to a chain letter — a recipe exchange chain email, to be precise — that I learned to make "Turkish Grandma Lentil Soup," as my friend Mira calls it, who got the recipe from her Turkish grandmother. It's the easiest and most rewarding from-scratch soup I know; it requires neither soaking of beans nor making a broth beforehand, yet has a full, warming and aromatic taste. It's easy to double, tastes better the next day. I've even cooked it, on the back burner, while working. Try, and enjoy.
Turkish grandma's red lentil soup
Ingredients
2 tablespoons olive oil
1 tablespoon cumin seeds (whole)
large yellow onion chopped fine
several cloves of garlic
1 tablespoon minced or grated fresh ginger
1 tablespoon cumin powder
2 sweet potatoes, chopped
2 carrots, chopped
3 small potatoes, chopped
1 can tomatoes, chopped or crushed
2 cups red lentils
salt/pepper
cayenne or a hot chili (optional)
lemon juice
cilantro and yogurt to serve
Heat olive oil in a large pot until hot. Add cumin seeds and sauté briefly until aromatic. Add onion and saute over medium heat until translucent. Add garlic, ginger, and minced chili pepper, if using. Add the vegetables and saute for 10-15 minutes. Add 1 t salt and some pepper.
Meanwhile, rinse the lentils several times until water turns clear.  Add lentils to vegetables and then add about 6 cups of water, depending on how much broth you like. Add cumin powder and salt to taste as lentils cook.
Allow to simmer on low heat for 20-30 minutes, or until lentils are soft and vegetables are tender. Turn off heat, then add juice of half a lemon. Correct seasoning for salt and pepper.
Ladle into bowls, adding a dollop of plain yogurt and some minced cilantro, and serve.