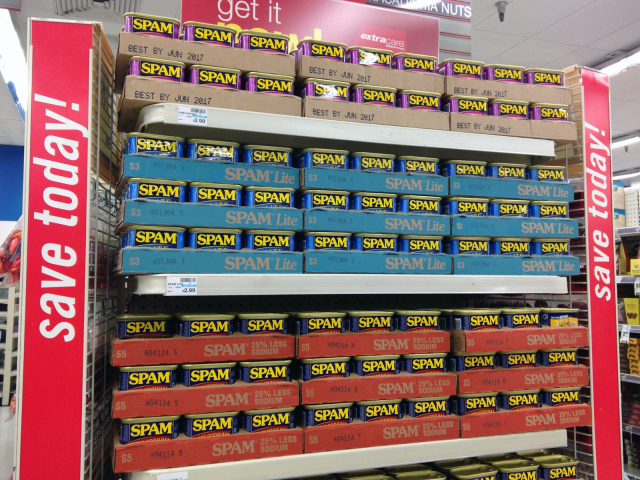 Before moving to Hawaii two weeks ago, I was pretty curious about the food situation. I'd heard conflicting things about the food selection and supply on these remote islands. Some said that any fresh food is expensive, with negative effects like the enduring popularity of spam (the food that gave junk email its name). Germans warned that we'd never have good beer, bread or cheese again. But other friends pointed out advantages such as the great climate for farming fruit and vegetables, plus the positive influence of immigrants from all over Asia. As I'm exploring the grocery stores, farmers' markets, kitchens and strip-mall restaurants of Honolulu, I'm finding that there's some truth to all of this, and there's a lot more to the story as well.
It seems people do fall back on spam as a staple during tough times — not just economic tough times, but also times like this past week, as we prepared for the double-whammy of Hurricane Iselle and Hurricane Julio. I saw this wall of spam today at the local Longs/CVS drugstore, probably a hurricane preparation special. However, Honolulu has much more to offer than canned luncheon meat.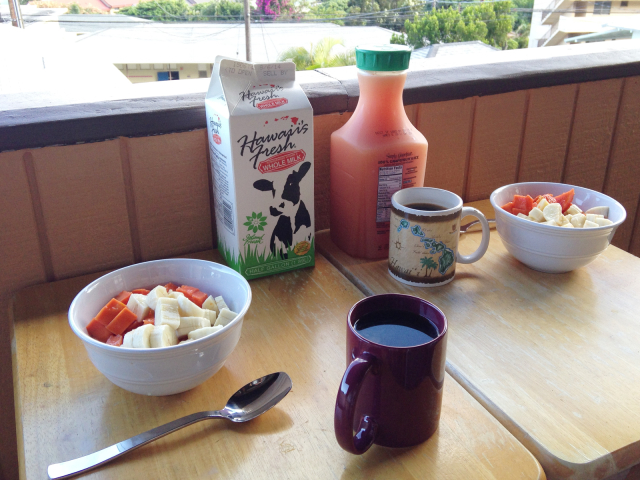 I was happy to find that there are farmer's markets almost every day. The big Saturday market at Kapiolani Community College turned out to be more of a street food fair for Japanese tourists, who were bused in by several tour companies, presumably to visit the adjacent scenic Diamond Head peak.  But we did find the real farmer's stands with a decidedly Asian-influenced selection of produce. We picked up a huge locally grown papaya and and some bananas for our breakfasts on the lanai (patio/balcony) of our guest house.
Thanks to the tropical climate, as well as the strong Hawaiian and Asian influence on its food, Honolulu definitely has its own world of fruit and vegetables. For one, I was surprised and happy to learn that a wide variety of mangos and bananas are grown in Hawaii. In most places I've lived (on the mainland and in Germany), practically all bananas are the sturdy, bland Cavendish variety and most mangos are the equally sturdy, bland Tommy Atkins (the large green and red ones), presumably because they had to withstand being shipped from faraway tropical places. Here, the tropical fruit that stays on island can be grown for flavor, rather than sturdiness. So varieties like apple bananas are popular. These are only about half as long as a Cavendish, but have a more tart and fresh taste, indeed a bit like an apple.
Besides that, at farmers' markets and produce stands, I have been regularly confronted with whole tables of produce that I've never seen before. Food-obsessed person that I am, this very rarely happens to me at markets in Germany or even in California. Here, there are greens, squashes, and fruits specific to China, Korea, the Phillipines, southeast Asia, and of course, Hawaii, that I am just beginning to learn to identify and then cook with, from sweet potato vines to taro.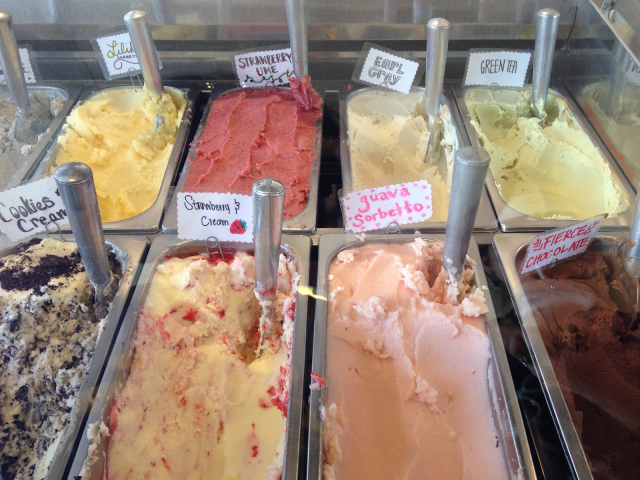 There are some foods that I do know, but which go under a different name here. I'm learning that many Japanese and Hawaiian words are part of the daily English vocabulary here, and that's especially true for food. A takeout box containing rice and a main dish might be called a bento, even if it's piled roughly into a styrofoam box and bears no resemblance to the small, neat bento boxes in Japan. Many locals also call soy sauce by its Japanese name, shoyu. Naturally, the hip new gelato store in my neighborhood of Kaimuki serves green tea ice cream, and I doubt anybody needs to ask what ume means (a small Japanese plum). I did have to ask about liliquoi, revealing myself as a newcomer — it's the Hawaiian word for passionfruit. I soon learned that it's a local speciality, also grown in many varieties and colors.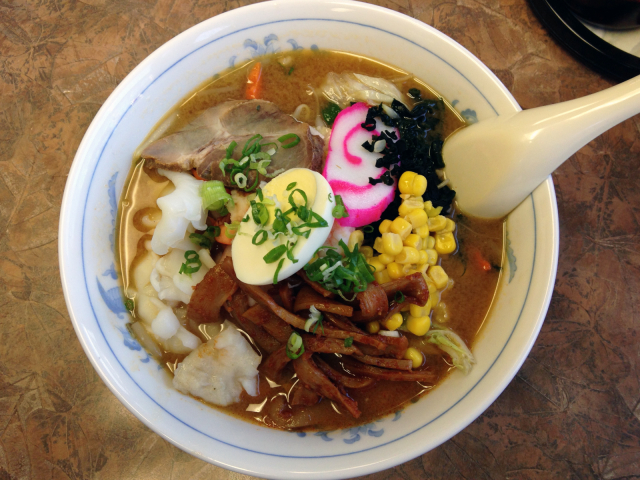 So it's quite lucky that I like Japanese food so much — with about 20% of the population of Honolulu being of Japanese descent and many tourists coming from Japan, Japanese food is omnipresent. There is decent ramen (hand-pulled noodles with rich pork broth and fun toppings, shown above) at practically every strip mall. Ingredients that I was never able to get (but were specified by my Japanese cookbook), like burdock, are stocked by the chain supermarkets. And Asian staples like silken tofu and furikake can be found among the toilet paper and shampoo and the drugstore!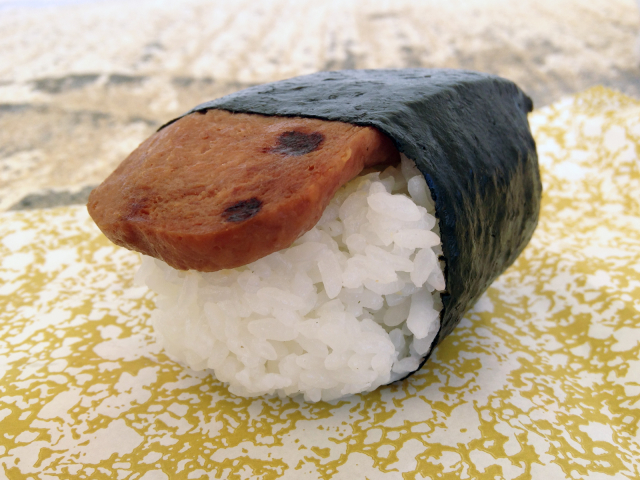 But Hawaii also has foods of its own to explore. The ones I've tried so far are humble, but they are universal and shared by people from all walks of life. The most ubiquitous one, above, brings Japanese and local traditions together. It is a small onigiri, or omusubi — a Japanese rice ball wrapped in nori seaweed. The local touch is a slice of grilled spam. This is my first spam musubi, purchased at Lawson's (a local branch of a Japanese conbeni, or convenience store).
For Hawaii residents, the distinction between locals and tourists is a big deal. Their state is overrun by vacationers year-round, so many residents feel it's important to distinguish themselves as kama'aina, locals. I know it takes awhile to become a local, and that any local you ask, anywhere in the world, will have a different definition of what that means. But I am trying my darnedest to observe, ask questions, and learn about how people do things around here, learn the kama'aina ways. And why not start by cooking up some local vegetables – and yes, spam?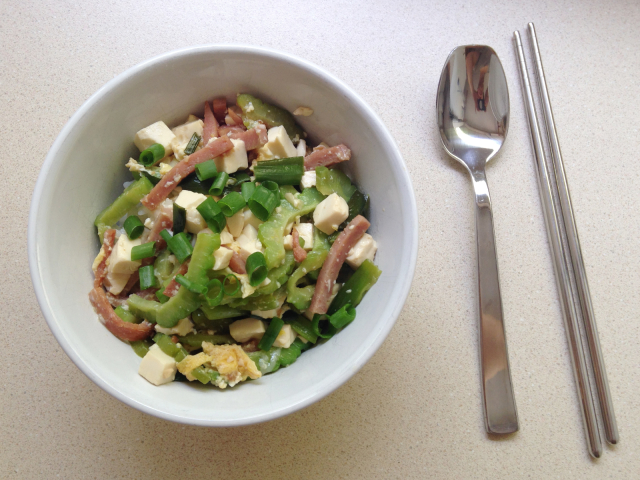 Spam and Bitter Melon Donburi 
Serves 4
My parents used to cook bitter melon a couple times a year, right after we'd finally made the long trip to a Chinese grocery store (there were none in our part of the country) where they could buy the coveted vegetable. Imagine my surprise when I found it at every farmers' market and vegetable stand in Honolulu. We usually had bitter melon with ground pork, but I had some spam I wanted to use up, along with some green onions also from the farmers' market. Turns out this is a classic Hawaii recipe with Okinawan origins!
If you don't have bitter melon where you live, I think this would also be good with other green vegetables such as green beans, sliced green bell pepper, or zucchini half-moons.
4 cups hot cooked rice
2 teaspoons cooking oil
1/2 (12 oz.) can spam, thinly sliced
4 green onions, chopped
2 gloves of garlic, minced
1 large bitter melon, halved, cored (make sure to scrape out all seeds and white foamy part) and sliced thinly
1 (20 oz.) block firm tofu, cut in 1-inch cubes
4 tablespoons soy sauce, oyster sauce, or a combination to taste
1 tablespoon chili paste
2 teaspoons sugar
2 large eggs, beaten
Heat oil in a wok or large pan over medium high heat. Sauté spam, onion, garlic and bitter melon. Add tofu, soy sauce, oyster sauce, chili sauce; heat through. Pour eggs over mixture, stir once gently; cover and cook for a few minutes until eggs are just set. Meanwhile, divide rice between four deep bowls. When eggs are set, top rice with mixture. Enjoy!
Adapated from Cooking Hawaiian.