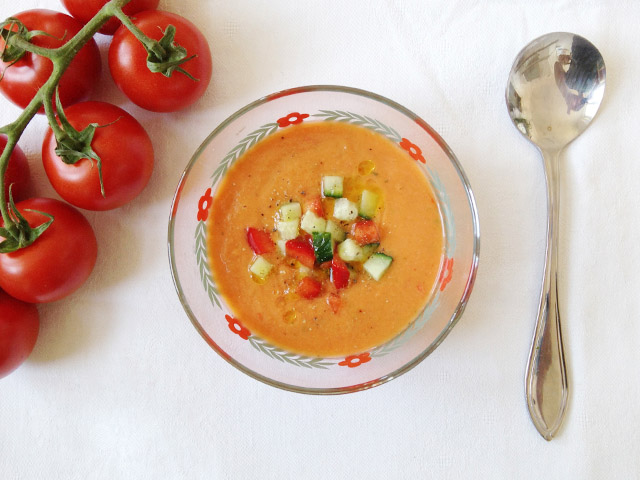 How are you keeping a cool head in these heat waves? I eat watermelon. And drink cold soup. Then I thought, why not do both at the same time? So, I melded recipes from a few favorite cookbooks and created my own spin on watermelon gazpacho. It's been far too long since I've shared a recipe on my website (years!), so when Eva of Neukölln Zwei Null asked me for this recipe, I decided to go for it. Hope you enjoy this soup as much as do, and stay cool!
Leslie's Watermelon Gazpacho
This recipe owes much to San Francisco's Bi-Rite Market's gazpacho recipe from their terrific book Eat Good Food. They actually use two cups of olive oil for about the same amount of soup. I only ask you to use one, so please do so — you will be rewarded with a creamy, fragrant soup. The watermelon is my addition, as is sautéing the onions to take the edge off their bite. Besides that, feel free to vary the proportions of vegetables to watermelon to play up or play down the melon flavor.

Makes 4 main-course servings. (It's too hot to eat anything else, right?)
Ingredients:
4 slices hearty white bread, stale is ok (I've even used leftover bagels)

2 small onions 

4 cloves garlic
1 long English cucumber
4 ripe tomatoes
1.5 pounds watermelon
1 large handful fresh basil
1 cup (240 ml) good olive oil
1/4 cup (60ml) sherry vinegar
fine sea salt, freshly ground pepper
Special equipment: a stab mixer or a blender.
1. Place bread in a bowl with 1 cup of water to soak.
2. Peel onions and garlic, then chop roughly. Heat a slug of the olive oil in a large pot; sauté the onion and garlic gently just until soft, just 3 to 5 minutes, then take off heat and let cool.
3. Peel cucumber. Then, dice a handful each of cucumber, tomato and watermelon and reserve for garnish.
4. Chop remaining cucumber, tomato and watermelon roughly and add to the pot.
5. Gently squeeze excess water from bread and add to pot, along with basil, olive oil and vinegar.
6. Puree everything finely. If using the stab mixer, you can work right in the pot – place it on a kitchen towel on a stable surface. If using the blender, work in batches, transferring the finished puree to a different pot or large bowl as you go.
7. Add salt and pepper to taste.
8. Refrigerate for several hours to let the flavors meld.
9. Before serving, taste and add more salt and vinegar as needed.
10. Ladle into individual bowls and top with the minced vegetables, freshly ground pepper, and a drizzle of olive oil.
Enjoy!